Newsletter: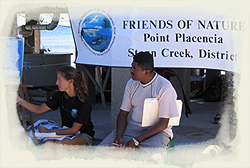 In keeping with Friends of Nature's (FON) tradition to acknowledge and award its most prominent stakeholders, the NGO held its annual award ceremony this past 15 December 2004. FON's stakeholders comprise six coastal communities: Hopkins, Sittee River, Seine Bight, Placencia, Independence and Monkey River.

This year, Tipsy Tuna Sports Bar was the venue for the award ceremony where the Board of Directors, principals of primary and secondary schools from each of the constituent communities and other community members sat in anticipation of who would be awarded.

As tradition unfolds, FON recognizes that in our youth lies the future and a good education is the key to success. The Bevier family, owners of Rum Point Inn, initiated the Bevier scholarship fund along with FON. The fund now provide one secondary school student of each of the communities with monies to pay tuition, books and uniform for the entire four years. In acknowledgment of these efforts, Mrs. Coral Bevier was given an award for her outstanding contribution to environmental protection and support of education.

Other awardees included Mr. Costas Christ and Mr. Michael Cavey, both for their financial contributions to Friends of Nature. FON named biologist and Ranger, Mr. Shayne Pech, Employee of the Year. Employees Ms. Linda Garcia, Mr. Matthew Nicholas and former employee Mrs. Shalini Cawich received certificates of appreciation for their hard work and dedication to the organization. In addition, Mr. Carlton Young Jr. was awarded for his contribution to environmental protection. Finally, fisherman Mr. Carlton Young Sr. received his award for helping to preserve and maintain commercial fisheries in the region.

Dr. Joseph Palacio presided over the ceremony and commended FON and its stakeholders for protecting Belize's natural resources by investing in and developing its human resources.

Other recent events hosted by FON include a fly-fishing course and a field trip to Laughing Bird Caye National Park. The fly-fishing course, offered as part of FON's Alternative Livelihood Training for commercial fishermen, was made possible by a contribution from the Protected Areas Conservation Trust (PACT). Fishermen from Hopkins, Seine Bight, Monkey River, Independence, Placencia and Sittee River participated in the weeklong course that took place during 10-14 January 2005. Fly-fishing experts Eloy Cuevas of Monkey River and Kevin Modera of Placencia taught the course. Participants will receive their certificates of completion on Friday, 4 February 2005 at the official opening of FON's new Ranger Station at Little Water Caye.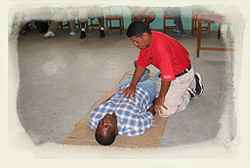 With help from a grant from the Global Environment Facility, Friends of Nature will be extending technical and financial support to help kick-off the Placencia Environmental Youth Club, and will also be bringing adults and kids on field trips to Laughing Bird Caye National Park. As the first step in the field training, Friends of Nature hosted a free CPR and First Aid course on Saturday, November 13, for all adults interested in participating in the field trips and youth clubs. Thirty-eight adults from 6 villages took part in the training and passed with flying colors.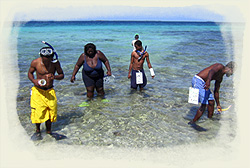 As part of the same project,FON's Education and Outreach Team hosted its first of many field trips to Laughing Bird Caye National Park, with a group of educators and community leaders from Seine Bight. During the weekend, participants Field trip participants from Seine Bight, equipped with field guides, get ready to discover the reef at Laughing Bird Caye learned about the role and need of Marine Protected Areas, coral ecology and reefs, threats to marine resources such as pollution and overfishing, and how communities can protect those resources by changing management practices of land-based activities. Friends of Nature will be hosting similar trips with groups of adults from Independence, Monkey River, Placencia and Hopkins; following training trips for adults, field trips with students from each community will take place, and the trained adults will assist with teaching and implementing the program.
Nemo Found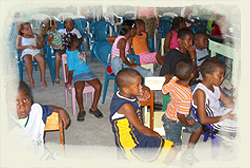 On Sunday, November 14 at the Placencia Community Center, Friends of Nature hosted a free showing of the cartoon favorite "Finding Nemo". In spite of the rain, many kids and parents came and enjoyed snacks and beverages which they drank from cups they brought from home: Friends of Nature encouraged everyone to reduce plastic waste by bringing re-usable cups, and Placencia kids and parents enthusiastically agreed. Following the movie, FON biologists Lisa Carne and Linda Garcia gave a quick slide presentation showing which Nemo characters live right here off the shores of Placencia.
Beautifying BTL Park
In December, the recently formed Placencia Environmental Club planted approximately 80 flowering and shade-bearing plants around the perimeter of BTL Park. Numerous students, community members Marsha Trent, Jose Fuentes, Tina Hess, Deb Vernon, Annette and Sonny Vernon, Nazle Frutos, Rodney Griffith, Adrian Vernon, Lance McKenzie, representatives of Clean and Green, Friends of Nature Education Director Justino Mendez, and Peace Corps Volunteers Jeff and Elicia Blumberg, shared a great experience landscaping under wet but perfect planting conditions. Under the supervision of the primary school principal, Mr. Griffith, students will be helping to keep the plants safe and watered.
Placencia villager Marsha Trent conceived the project and also provided the cuttings. In addition, Ms. Trent has been constructing a nursery behind the primary school washrooms, where the old palapa used to stand, aided by Jose Fuentes, other community members and Friends of Nature staff. It is envisioned that the cheerful blue structure will nurture future cuttings, which will be used to beautify Placencia and the other Friends of Nature communities.
The Placencia Environmental Club, started by Friends of Nature and several community members, is open to all primary school students. More activities will be coming after the holidays, so get ready to get involved!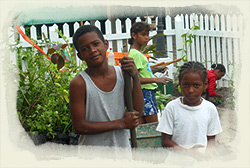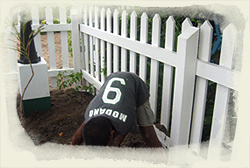 To learn more about Friends of Nature's activities or to become involved,
please visit one of our offices or call us at 523.3377 or 523.3501.
---
About Friends of Nature | Research | Protected Areas | Newsletter | Contact Us